Car Rentals in Darwin: Pros and Cons
Drop-off Date:
rental period: 7 days
I live in
and the main driver is aged
Darwin has all the leading brands of car rentals available and some fantastic vehicles to choose from
Car rentals recommended for you
Great Deals
5 Doors
5 Seats
1Suitcase
A/C
Automatic
Petrol
5 Doors
5 Seats
3Suitcases
A/C
Automatic
Petrol
Toyota Corolla
Intermediate
5 Doors
5 Seats
2Suitcases
A/C
Manual
Petrol
Popular Vehicles
5 Doors
5 Seats
1Suitcase
A/C
Automatic
Petrol
Toyota Corolla
Intermediate
5 Doors
5 Seats
2Suitcases
A/C
Manual
Petrol
5 Doors
5 Seats
3Suitcases
A/C
Automatic
Petrol
Hybrid / Electric cars
Toyota Camry Hybrid
Touring
5 Doors
5 Seats
3Suitcases
A/C
Automatic
Hybrid/Electric
5 Doors
5 Seats
2Suitcases
A/C
Automatic
Hybrid/Electric
5 Doors
5 Seats
2Suitcases
A/C
Automatic
Hybrid/Electric
Car Rentals in Darwin: Pros and Cons
Evey year (at least before the pandemic), the city of Darwin attracts around two million visitors on average. As a gateway to Kadaku National Park and with many other exciting things to see and do, it's not difficult to see why Darwin attracts international and domestic guests alike.
If you've decided to visit Darwin, then you might be wondering about car rentals in Darwin. Is it worth renting a car or should you try to get around on your own?
Here are the pros and cons of car hire in Darwin so you can make an informed decision.
The Pros of Car Hire in Darwin

Here are the pros of Darwin car rental. They're woth considering.

Have the initiative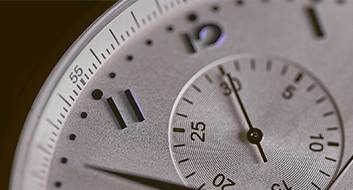 Freedom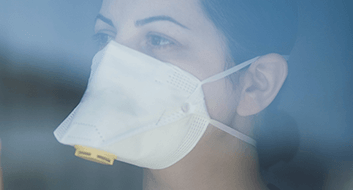 Reduce Risk
Farewell hot
You Don't Have to Rely on Public Transport

Perhaps one of the best pros of car rental in Darwin city is the fact that you don't have to rely on public transport. The nature of public transport means it can be unpredictable and if something goes wrong, you might find it hard to make it somewhere on time.

It can also be difficult to navigate for people who aren't used to the city and it means sharing space with strangers.

Explore on Your Own Schedule

One huge problem of relying on public transport or rideshares is that you don't really get to explore on your own schedule. With public transport, things have to be planned in advance and even rideshares and cabs can put a dampener on things.

Sometimes there's no car available or a surge you'd rather not pay for.

If you have your own rented car, you go where you want, when you want. Car rental in Darwin means you get to see all of the sights at times that are convenient for you.

Less COVID-19 Risk

COVID-19 is very much still present in Australia, so there's something to be said for reducing the risk of transmission. Renting a car means you won't be pressed up close against strangers on public transport, where even masks aren't 100% effective.

Mitigate the risk by renting.

Climate Control

It's no secret that Australia is a hot country, and Darwin is no exception. Waiting around on public transport and climbing on and off buses often exposes you to the heat and, even for Australians who are used to such extreme temperatures, this can be a bit painful.

If you have a car, you can mostly be in the air conditioning and your exposure to the heat is minimal while traveling. You won't realize how valuable this is until you've spent a lot of time outdoors in Australia.

The Variety

When you rent a car, you usually aren't just confinded to one type. You can choose the car that suits you.

For example, you might prefer an automatic over a manual. You might be more used to driving an electric car than gas.

You can take your time to browse rental cars in Darwin and find the one that suits you.

Travel Around the Country

You aren't confined to Darwin if you rent a car here. Instead, you're welcome to travel all over Australia.

It can be hard to find public transport to lesser frequented places, so you get to see the things that other travelers don't.

You Aren't Responsible for Maintenance

Lastly, one of the best pros to renting a car is that you aren't responsible for the car's upkeep and maintenance. Unlike when you own one, that's all on the rental company, except what's stipulated in your contract! Enjoy your trip worry-free, using a car that you'll hand back over in a few days and not have to worry about again.
The Cons of Car Rentals in Darwin

As with anything, there are a few cons to consider before making your final decision. Read on to find out what they are.

It's an Added Expense

As with anything, it's an added expense. Public transport is likely cheaper than renting a car, but there's a reason for this - when you rent a car, you're paying for the convenience and all of the advantages above.

Still, if you're on a budget and you can't find a cheap car rental in Darwin, it may not be the best option for you.

It's Responsibility

The responsibility of renting a car is also too much for some people. Although you aren't responsible for its overall maintenance, you have to take care of it when it's in your possession and you don't want to hand it back with repairs and faults that you'll be liable for.

With rideshares and cabs, you don't have to worry about this.

Driving in an Unfamiliar Place

Some people are very intimidated by the idea of driving in an unfamiliar place, so they may not want to deal with the anxiety, whic is understandable. If you do choose to rent a car, using a navigation system or Google Maps on your phone (mounted on the car) can be a big help, as it reads out directions.

It can also be difficult to grasp the rules and laws of an entirely new country. For example, Americans don't drive on the same side of the road as Australians, which can be a big source of confusion!

If you do decide that car rentals in Darwin are the way to go over other methods of travel, read up on the rules ahead of time and take things slow when driving. If you do that, you'll be just fine and won't have to worry about the cons.
FAQs About Car Rentals Darwin
Renting a car for a vacation is a big deal. So, it's not surprising that there are plenty of FAQs.Some of the most popular are below.
Can I Rent an Automatic Car?

Yes, you can! We have a wide range of automatic and manual cars available.

How Expensive Is Gas in Christchurch?

Can I Pick up a Car Rental at the Airport?

Yes, you can! You can choose to pick up and drop off your rental car at Christchurch Airport or in the downtown area.

How Much Does Parking Cost in Christchurch?

The price of parking varies on the location and duration of time. But for each hour in on-street parking, it's $4.50.At Lichfield Street Car Park, it's $4.00 per hour and $15.00 for an all-day ticket.
Car Rentals in Darwin Are Worth It
Although there are some disadvantages of renting a car in Darwin - as there are with anything - car rentals in Darwin tend to be worth it. Just make sure you plan things ahead of time, read up on the rules, and browse around for the best company. That way, you'll be able to get where you want to go on your own schedule and have a hassle-free time.
Decided to commit to a car rental? Check out our options at KING Rnetal Cars for some great deals.
Hire a vehicle in Darwin and enjoy
Getting to know Darwin
Darwin is the capital city of the Northern Territory.Darwin, with its balmy nights, colourful characters and outdoor adventures. As well as markets, crocodiles and cruises, you'll find strong Aboriginal cultures here, as evidenced by the array of languages spoken in the streets and the vibrant Aboriginal art that fills the city's galleries, museums and streetscapes. The city's proximity to Asia means you'll also find strong Asian influences, especially in the energetic food scene and buzzing night markets. 

Darwin is a hub for tours to Kakadu National Park, Litchfield National Park and Katherine Gorge. The Territory is traditionally divided into the wet and dry, but there are up to six traditional seasons in Darwin. It is warm and sunny from May to September. Humidity rises during the green season, from October to April bringing thunderstorms and monsoonal rains which rejuvenates the landscape. Tourism is largely seasonal with most tourists visiting during the cooler dry season which runs from April to September.
Darwin Weather today
24.3 — 31.7 ℃

75.74 — 89.06 ℉

Rain, Partially cloudy
Darwin Climate
Darwin has a tropical savanna climate (Köppen Aw) with distinct wet and dry seasons and the average maximum temperature is similar all year round. The dry season runs from about May to September, during which nearly every day is sunny, and afternoon relative humidity averages around 30%. In the coolest months of June and July, the daily minimum temperature may dip as low as 14 °C (57 °F), but very rarely lower. For a 147‑day period during the 2012 dry season, from 5 May to 29 September, Darwin recorded no precipitation whatsoever. Prolonged periods of no precipitation are common in the dry season in Northern Australia.
Here are some real comments we've collected that we hope will help you
Places to visit in Darwin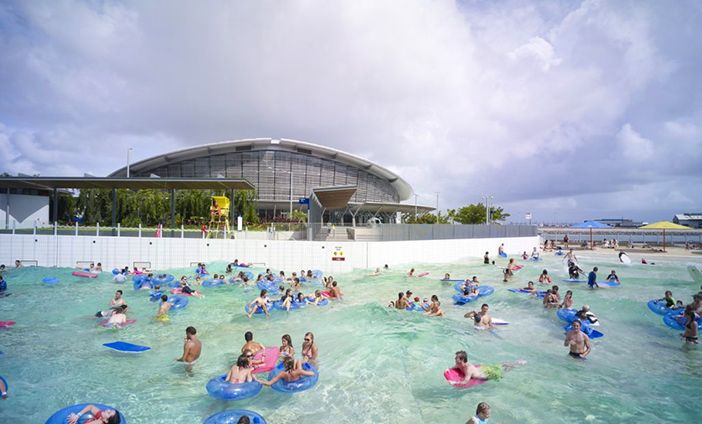 Darwin Waterfront
Popular with both kids and adults, the sparkling blue Wave Lagoon is one of the most popular attractions in Darwin's waterfront precinct. Every twenty minutes, the lagoon rolls out a range of different wave patterns, so you can swim a leisurely lap during a gentle swell or boogie board on waves measuring up to 1.2 metres (4 feet) high. There's also a shallow water play area for younger children to splash and play. The pool is open every day and the best part is it's completely safe, with not a crocodile or stinger in sight!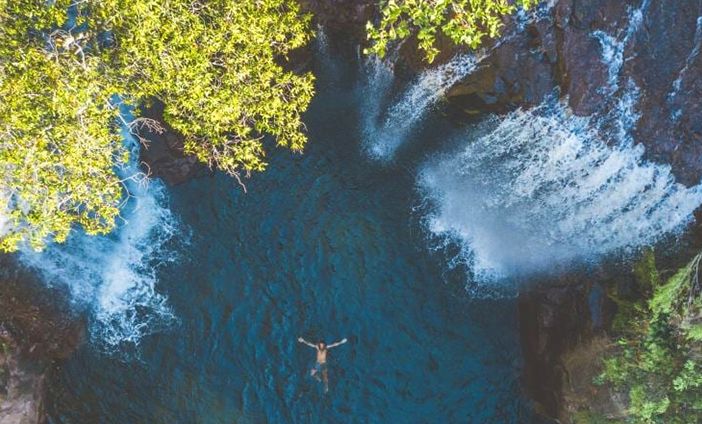 Litchfield National Park
Only a 60-minute drive south of Darwin, Litchfield National Park is possibly the Northern Territory's best kept secret. The park is filled with stunning waterfalls and waterholes that are surrounded by monsoonal vine forests – all of which offer a cool respite on warm summer days. A drive through Litchfield is full of contrasts and some of the most enormous termite mounds in the Top End. Cabin, camping and caravan sites are within a short drive of the park gates.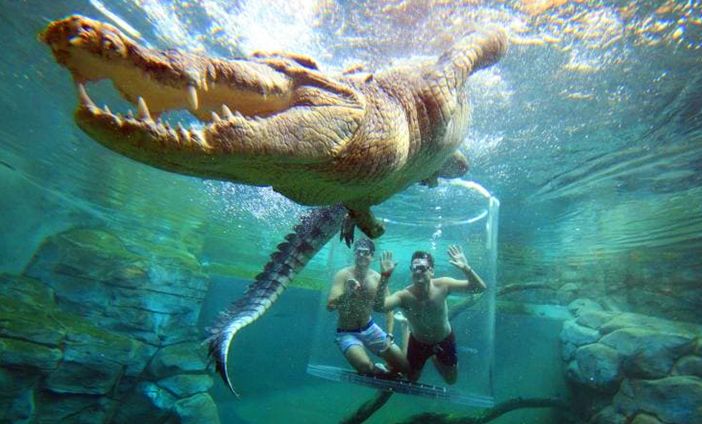 Crocodiles at Crocosaurus Cove
A wildlife park where even the kids can get interactive with crocodiles? It can be done at Crocosaurus Cove, right in the centre of Darwin. Take a tour of the park to watch some of the largest crocodiles be fed, and grab a fishing rod to feed the baby crocs yourself. There are plenty of underwater viewing opportunities, but you can also "swim with the crocs" in the Cage of Death, a crocodile swimming experience in which you are lowered into the crocodiles' water in a perspex enclosure.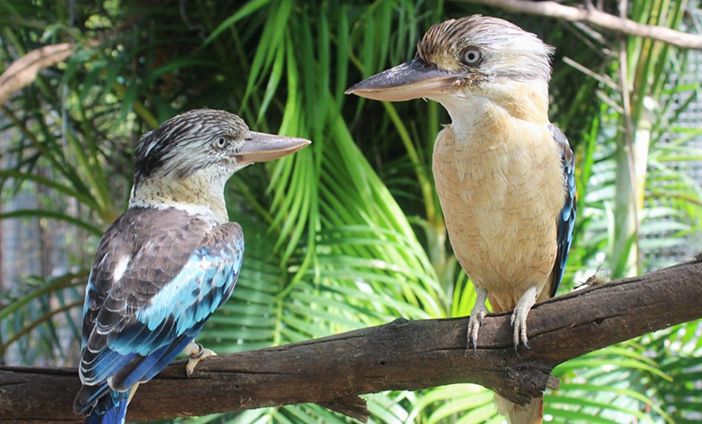 Territory Wildlife Park
The Wildlife Park gives visitors authentic and up-close encounters with the animals and plants of the Top End. The Park is a mix of zoo-type exhibits and natural bush, with attractions spread out around a 4km loop road linked with free shuttle trains and natural walking paths. Walk through treetop aviaries, stroll around a natural lagoon and walk into the tunnel beneath an aquarium and stand nose to nose with a 4 metre saltwater crocodile. The Monsoon Forest Walk goes through an area supported by the springs that flow into Berry Creek, which is traditionally significant to the local Aboriginal people.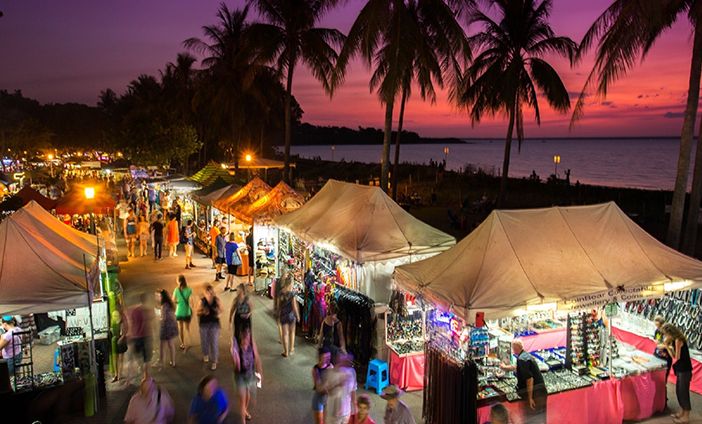 Mindil Markets
The Market sees the congregation of over 200 unique stalls, ranging from food stalls offering incredible local and international cuisine to an array of arts, crafts and services stalls. The Market also supports and provides opportunity to Darwin and regional NT artists from all genres of creative and performing arts to showcase their talent. The combination of amazing food, arts and culture, set to the backdrop of the spectacular sunset, creates an electric atmosphere. Come and soak up the atmosphere and flavours of the iconic Mindil Beach Sunset Market and experience first hand what all the fuss is about.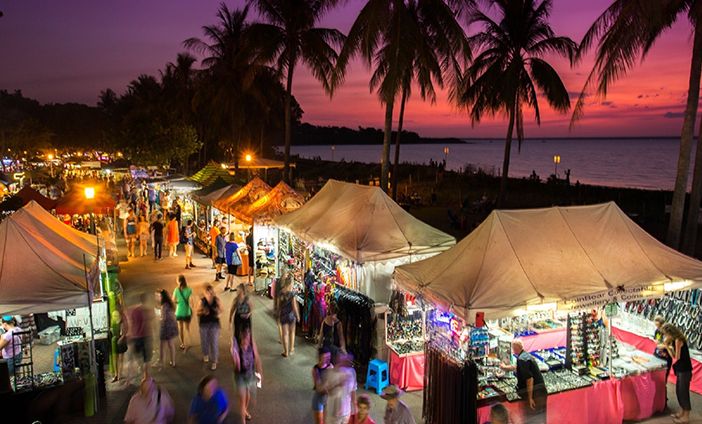 Northern Territory Museum and Art Gallery
Inside the Museum and Art Gallery of the Northern Territory, you'll find a combination of world-renowned art, scientific collections and cultural exhibitions. The museum's most famous resident is Sweetheart, a 5.1-metre (16.7-foot) long saltwater crocodile notorious for attacking dinghies at a popular Darwin fishing spot in the 1970s. After saying "g'day" to Sweetheart, don't miss the gallery's collection of Aboriginal and Torres Strait Islander art.
Australia monthly average rental price comparison
Car hire prices in Australia vary widely depending on the season, policies and activities. I hope our statistical table can help you.
Australia average rental days per month comparison
The number of rental days in Australia varies for various reasons. I hope our statistics will be helpful to your trip.
The most popular car rental spot in Darwin
Other popular cities in Australia