Northland RENTAL CARS
Drop-off Date:
rental period: 7 days
I live in
and the main driver is aged
Northland has all the leading brands of car rentals available and some fantastic vehicles to choose from
Car rentals recommended for you
Great Deals
5 Doors
5 Seats
1Suitcase
A/C
Automatic
Petrol
5 Doors
5 Seats
1Suitcase
A/C
Automatic
Petrol
5 Doors
5 Seats
1Suitcase
A/C
Automatic
Petrol
Popular Vehicles
5 Doors
5 Seats
1Suitcase
A/C
Automatic
Petrol
5 Doors
5 Seats
1Suitcase
A/C
Automatic
Petrol
5 Doors
5 Seats
2Suitcases
A/C
Automatic
Petrol
Hybrid / Electric cars
Toyota Camry Hybrid
Touring
5 Doors
5 Seats
3Suitcases
A/C
Automatic
Hybrid/Electric
5 Doors
5 Seats
2Suitcases
A/C
Automatic
Hybrid/Electric
5 Doors
5 Seats
2Suitcases
A/C
Automatic
Hybrid/Electric
Car Hire in Northland
Getting to know Northland
Explore Northland by hiring a car with KING Rentalcars. According to Māori legend, the North Island of New Zealand was an enormous fish, caught by the demigod Māui. For this reason, Northland is sometimes referred to as "The tail of the fish", Te Hiku o Te Ika. 
 
Northland iwi claim that Kupe made landfall at the Hokianga in the northwest of Northland, and thus the region claims that it was the birthplace of New Zealand. Some of the oldest traces of Māori kāinga can be found here. 
 
In the Bay of Islands, Russell, formerly known as Kororareka, was the first permanent European settlement and Kerikeri contains many historic buildings, including the Stone Store, New Zealand's oldest extant building. The nearby settlement of Waitangi was of even more significance, as the signing place of New Zealand's founding document, the Treaty of Waitangi between the Māori tribes and the British Crown, on 6 February 1840.
Places to visit in Northland
Waitangi Treaty Grounds
Enjoy an inspiring and interactive full-day experience through Waitangi's two contemporary museums, powerful Māori cultural performances in an authentic Meeting House, informative guided tours, engaging visitor centre, lush native forest and gardens, inspiring art gallery and carving studio, traditional Māori waka (canoe) and hāngi, tranquil café and so much more. The award-winning Waitangi Treaty Grounds is a must-do for all visitors to the Bay of Islands.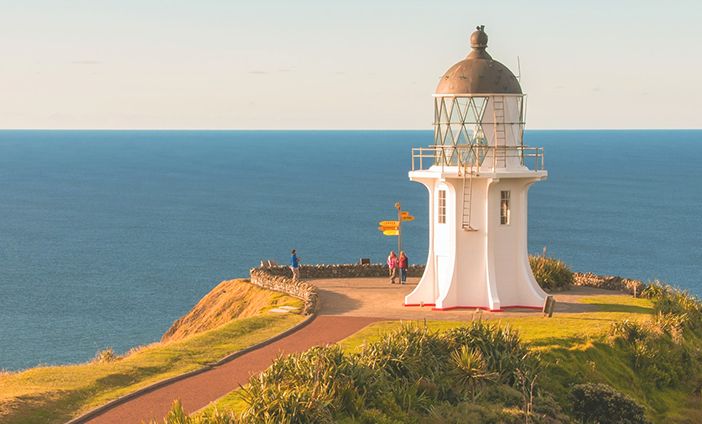 Cape Reinga and Ninety Mile Beach
Arrange a night at YHA Ahipara before you head to the iconic Cape Reinga lighthouse and watch two seas collide. This is also a special place in Maori culture; Te Rerenga Wairua is the spot they believe spirits depart from to reach their homeland. Of course, no visit to the far north would be complete without a visit to Te Paki. This is an epic place to boogie board down the sand dunes, but watch you don't burn your feet!
The Waipoua Forest
Waipoua Forest is a forest, on the west coast of the Northland Region of New Zealand's North Island. It is notable for having two of the largest living kauri trees, Tāne Mahuta and Te Matua Ngahere. Today, the forest is a significant drawcard for visitors to Northland, with approximately 200,000 people visiting Tāne Mahuta every year. This has led to concerns about the health of the forest and the spread of kauri dieback disease.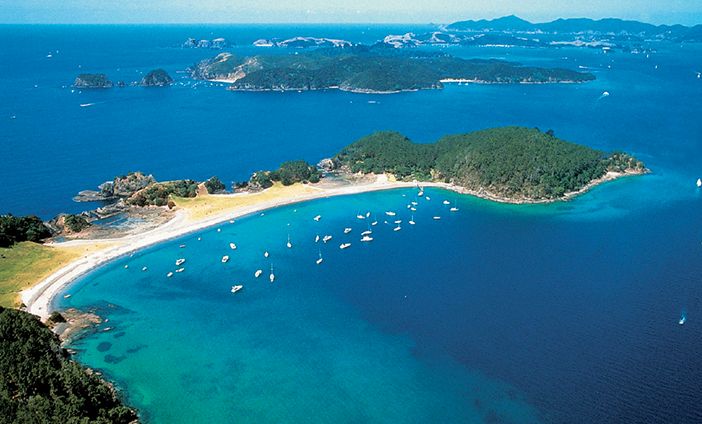 Bay of Islands
The Bay of Islands is an area on the east coast of the Far North District of the North Island of New Zealand. It is one of the most popular fishing, sailing and tourist destinations in the country, and has been renowned internationally for its big-game fishing since American author Zane Grey publicised it in the 1930s. It is 60 km north-west of the city of Whangarei. Cape Reinga, at the northern tip of the country, is about 210 km by road further to the north-west.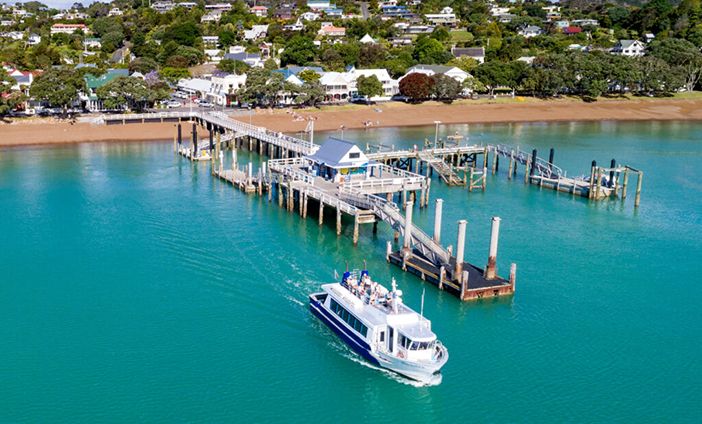 Russell
The Russell mini tour is a great way to get an overview of the town's key attractions. You can delve further into the town's history at the Russell Museum, or wander around Christ Church and read the fascinating gravestones in the cemetery outside. Go fishing off the wharf, enjoy a swim in Kororareka Bay or climb over the hill to Oneroa (Long Beach) or Tapeka Point. Bicycles and boats are available for hire, or charter a boat for a fishing or sailing expedition.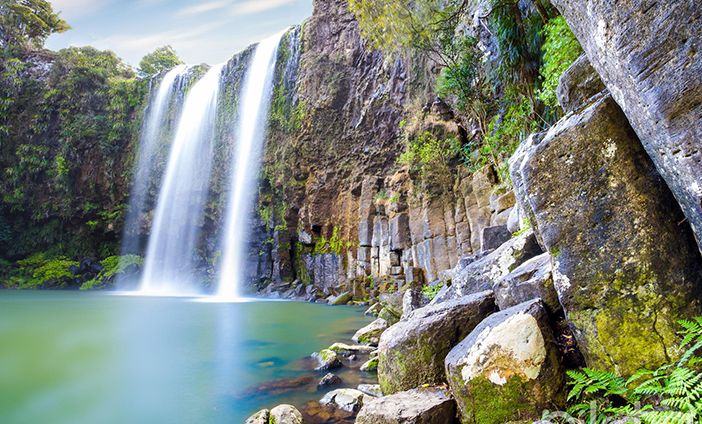 Whangarei Falls
Whangarei Falls is located in Whangarei Scenic Reserve. The classic curtain waterfall is part of the Hatea River and one of the most popular swimming spot in the area. Easy access and a well-maintained Scenic Reserve make this waterfall one of New Zealand Must See Waterfalls. Whangarei Falls is a type of waterfalls which may have little or no water at all during a dry summer. Hence, if the summer is dry with no rain for a few weeks, please don't expect to see a powerful waterfall.
New Zealand monthly average rental price comparison
Car hire prices in New Zealand vary widely depending on the season, policies and activities. I hope our statistical table can help you.
New Zealand average rental days per month comparison
The number of rental days in New Zealand varies for various reasons. I hope our statistics will be helpful to your trip.
The most popular car rental spot in Northland
Other popular cities in New Zealand