Taupo RENTAL CARS
Drop-off Date:
rental period: 7 days
I live in
and the main driver is aged
Taupo has all the leading brands of car rentals available and some fantastic vehicles to choose from
Car rentals recommended for you
Great Deals
5 Doors
5 Seats
2Suitcases
A/C
Automatic
Petrol
2 Doors
12 Seats
12Suitcases
A/C
Automatic
Diesel
Kia Carnival
People Mover
5 Doors
8 Seats
2Suitcases
A/C
Automatic
Petrol
Popular Vehicles
Kia Carnival
People Mover
5 Doors
8 Seats
2Suitcases
A/C
Automatic
Petrol
2 Doors
12 Seats
12Suitcases
A/C
Automatic
Diesel
5 Doors
5 Seats
2Suitcases
A/C
Automatic
Petrol
Hybrid / Electric cars
Toyota Camry Hybrid
Touring
5 Doors
5 Seats
3Suitcases
A/C
Automatic
Hybrid/Electric
5 Doors
5 Seats
2Suitcases
A/C
Automatic
Hybrid/Electric
5 Doors
5 Seats
2Suitcases
A/C
Automatic
Hybrid/Electric
Hire a vehicle in Taupo and enjoy
Getting to know Taupo
Taupō sometimes written Taupo, is a town on the north-eastern shore of Lake Taupō, New Zealand's largest lake, in the central North Island. It is the largest urban area of the Taupo District, and the second-largest urban area in the Waikato region, behind Hamilton.
 
Taupō was created nearly two thousand years ago by a volcanic eruption so big it darkened the skies in Europe and China. Visit the Craters of the Moon and you'll see evidence of the lake's fiery birth in the geysers, steaming craters and boiling mud pools.   At some of Taupō's beaches, swimmers and paddlers can enjoy warm, geothermal water currents.  Just north of Taupō you'll find New Zealand's most visited attraction, the magnificent Huka Falls, where more than 220,000 litres of water thunder over the cliff face every second. The forests surrounding the lake offer hiking and mountain biking to suit all levels of experience.
Places to visit in Taupo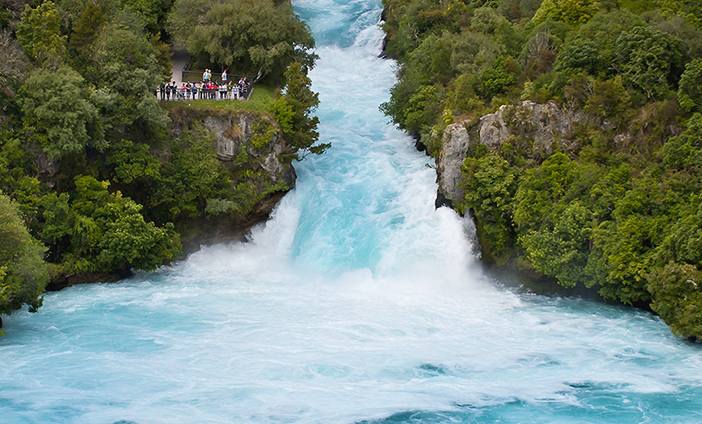 Huka Falls
The Huka Falls are a set of waterfalls on the Waikato River that drains Lake Taupō in New Zealand. A foot bridge right at the top of the falls puts you in a prime position to get up close and witness the powerful display of water blasting by. If you'd like to see the power and fury of the falls up close, try a jet boat ride or river cruise. To follow the build up to the falls you can hike the Spa Park to Huka Falls trail, an easy one hour walk that begins where the river is still tranquil and wide. The track emerges again alongside the river and the roar of the falls grows louder at every turn.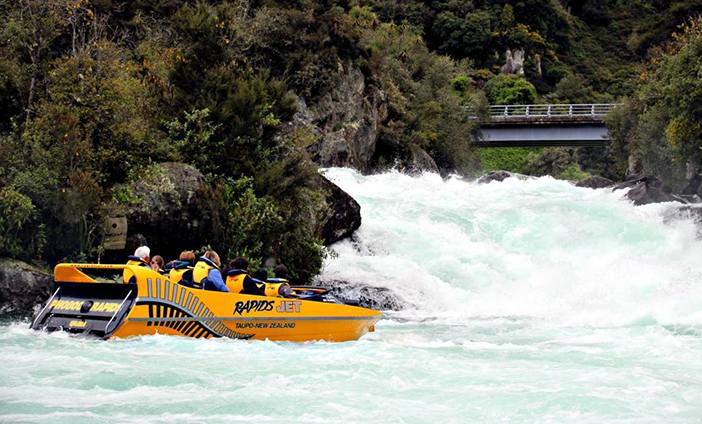 Aratiatia Rapids
Witness an unusual display of raw river power at the Aratiatia rapids, just off State Highway 1 north of Taupō. A few times each day, spill gates from a dam are opened at the top of the Aratiatia rapids and the narrow gorge fills with turbulent water surging past at up to 90,000 litres per second. Then, as the gates are closed about thirty minutes later, the turbulence recedes to a placid stream. By seeing the transition to full-flow and back again, visitors can fully appreciate the power of nature.
Waipahihi Botanical Gardens
Discover the fascinating alpine garden, lemonwood walk or marvel at the 2000 rhododendrons, azaleas and camellias that are a blaze of colour every spring. The flowers and fruit of native trees in the reserve attract several species of native bird. The yellow flowered kowhai tree is a favourite source of nectar for one of New Zealand's common songbirds, the tui. This is a magical and romantic place - not only for the many walks through the flowering shrubs and trees, but also for the outstanding views.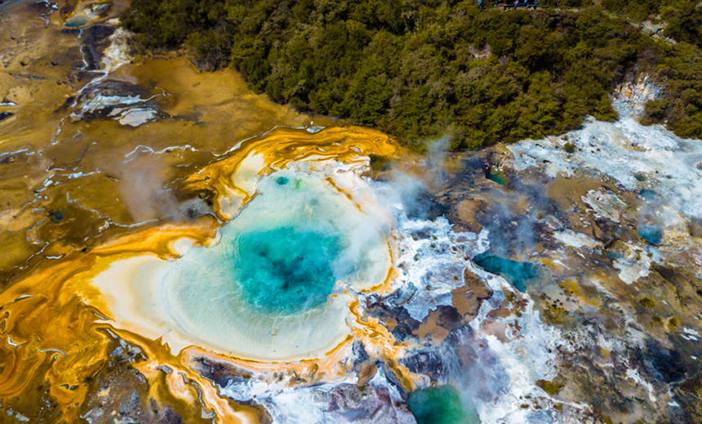 Orakei Korako Cave & Thermal Park
Orakei Korako 'The Place of Adorning' is a highly active geothermal area most notable for its series of fault-stepped sinter terraces. Situated between Taupo & Rotorua on the banks of the Waikato River (Lake Ohakuri) lies The Hidden Valley of Orakei Korako Cave and Thermal Park. Off the beaten tourist track it is at once breath-taking in its beauty, and yet spine – chilling in the might of its unbridled subterranean power. Orakei Korako is reached by a short ferry trip over the tranquil Lake Ohakuri.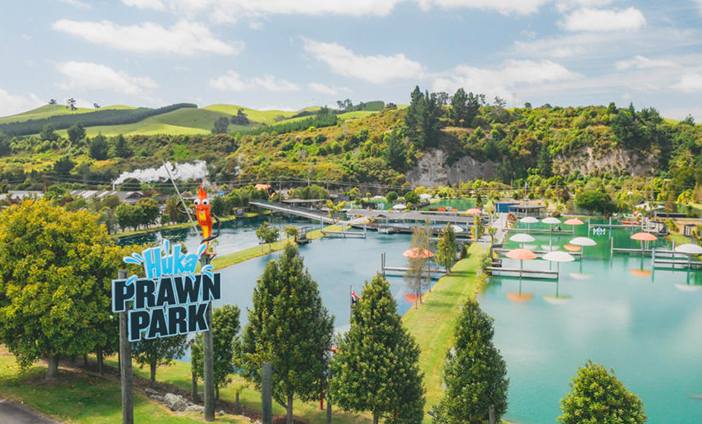 Huka Prawn Park
From the minute, you arrive at our entrance to our park you will be amazed at such a place existing in the world. You have to see it to believe it, start by joining our behind the scenes guided tour through the nursery and hatchery, feel the strange sensation of feeding baby prawns. Race up and down our Boating Lake on stand-up paddleboards, water trikes or pedal boats. Watch the excitement on your child's face as you head down our adventure trail trying out the interactive activities, feed the trout, battle the family on our water cannons.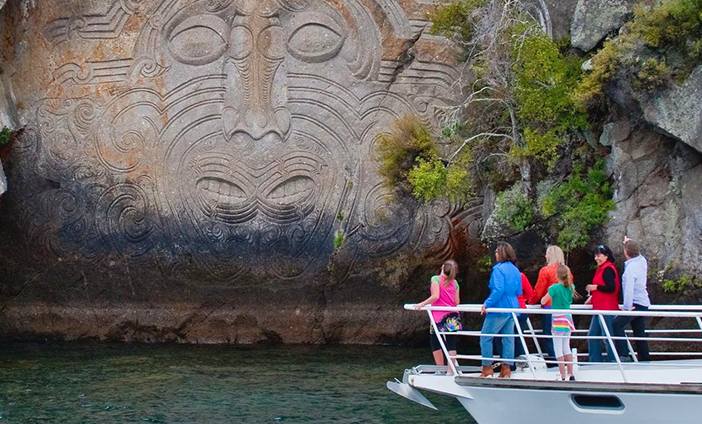 Boat cruises in Taupō
Take a trip on a catamaran, steam boat, sail boat or luxurious private charter - you will be spoiled for choice when it comes to cruising on Lake Taupō. Many of these operators will visit Lake Taupō's fascinating Mine Bay rock carvings which are only accessible by water, providing full commentary on the cultural significance of the carvings and the lake itself. If you're a keen angler, choose a cruise that also offers trout fishing - Lake Taupō is known for its trophy-sized rainbow trout.
New Zealand monthly average rental price comparison
Car hire prices in New Zealand vary widely depending on the season, policies and activities. I hope our statistical table can help you.
New Zealand average rental days per month comparison
The number of rental days in New Zealand varies for various reasons. I hope our statistics will be helpful to your trip.
The most popular car rental spot in Taupo
Other popular cities in New Zealand